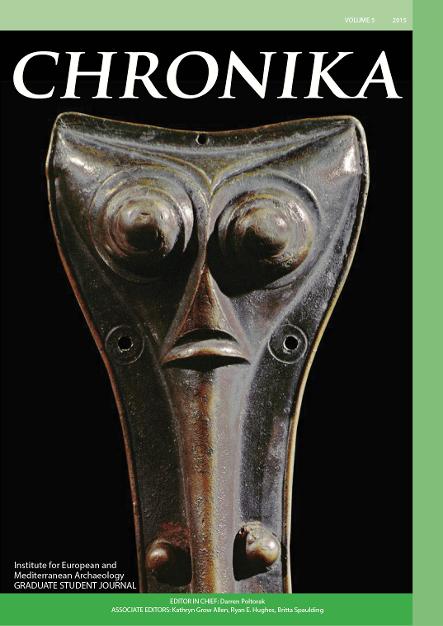 Chronika, Volume 5, Full Text
Letter from the Editor Emeritus:
Katherine R L McLardy, Monash University.
"The Megara of the Thesmophoria: Reconciling the Textual and Archaeological Records"
Giorgos Sofianos, National and Kapodistrian University of Athens.
"Imagi(ni)ng 'The Palace of Minos': A view from the Architectural Drawings"
Alexander Mazurek, University at Buffalo.
"Etruscan Genucilia Ware: A Discussion on Its History and Past Scholarship"
Konstantinos P. Trimmis, Cardiff University.
"Hidden Treasures in Forgotten Archives:Exploring the Archaeology of Greek Caves into the archives and the bulletin of the Hellenic Speleological Society"
Rachel Dewan, University of Oxford.
"Bronze Age Flower Power: The Minoan Use and Social Significance of Saffron and Crocus Flowers"
Constantina Alexandrou, Trinity College.
"The politics of currency and the use of images of the past in the formation of the Cypriot national identity"
Mariya Avramova, The Antiquity of Southeastern Europe Research Center, University of Warsaw.
"Images of Horsemen in Battle on Works of Thracian Art"
Rebecca Kasmin, New York University.
"The Vandalism of the Mosaics in the Severan Synagogue in Hammat Tiberias"
Ryan E. Hughes, University at Buffalo.
"Interview with Dr. Emily Holt, 2014-2015 IEMA Postdoctoral Fellow"