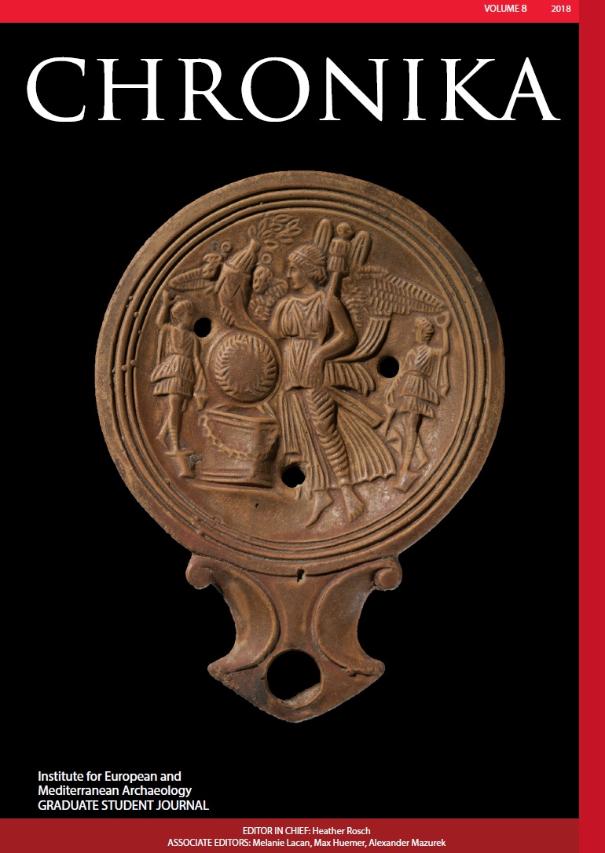 Chronika, Volume 8, Full Text
Sarah Hoffman, University at Buffalo
"The Ghosts of Christmas Past: Folklore,Archaeology, and Place Abandonmentat Haffjarðarey, Western Iceland"
Jason Rasmussen, University at Buffalo

"Fragmented Remains: A Case for Social Memory vs. Violence"
Patricia Tabascio, University of Oxford

"Figures in Transition: The Half-Open Door Motif on the Velletri Sarcophagus"
Kipp Tremlin, University of South Florida
"Ephemeral Creatures: Infant Death and Burial in Ancient Rome"
Thomas Kocjan, Brock University
"A Woman's Virtus? Perceptions of the Female Gladiator "
Nina Mazhjoo, Concordia University
"Ritualized Body and Ritualized Identity: Recontextualizing the Initiation rituals of the Roman Mystery Cult of Mithras"
C.B. Troskosky, University at Buffalo; Vytenis Podėnas, Institute of History of Lithuania;
and Nathan Dubinin, University at Buffalo
"Quaternary Geomorphology and Viewshed Analysis of the Garniai I and Nearby Late Bronze Age Hillforts (Utena County, Lithuania)"
Nathaniel Durant, University at Buffalo
"Finding Forts: A Forgotten Landscape in Southeast Romania"

Alice Chapman, University at Buffalo

"The Olynthos Project"


Heather Rosch, University at Buffalo

"Interview with Dr. Megan Daniels, 2017-2018 IEMA Postdoctoral Fellow"